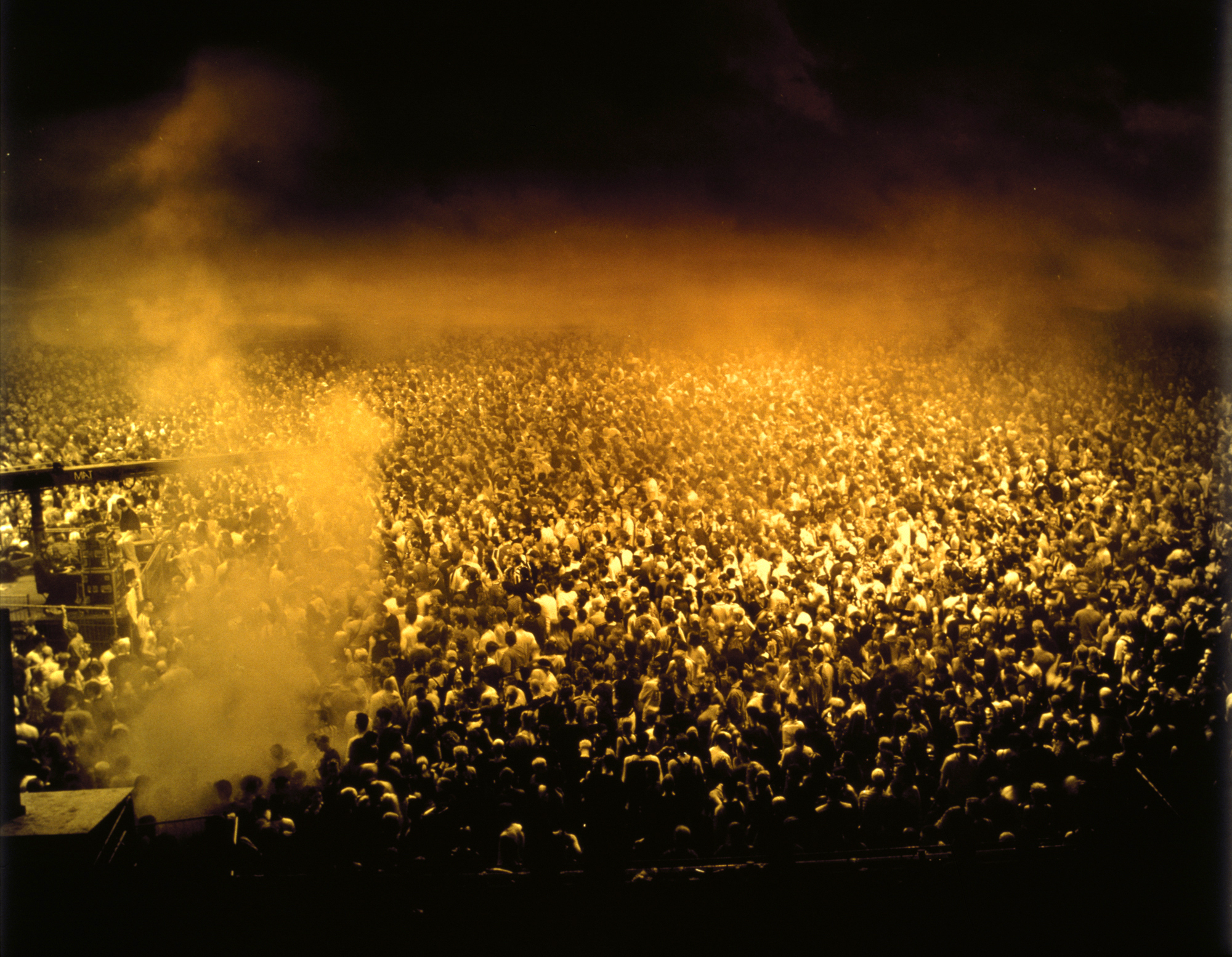 Dance Valley, Andreas Gursky, 1995
By LIBBY ROHR
You can feel it in your bones, lungs, muscles, and your brain. Your heart seems to vibrate with the beat, reverberating out of industrial-sized speakers so loud the earth seems to tremble where you stand. An earthquake of beauty in music shaking you alive again. It smells like alcohol, smoke, perfume, and sweat. The air is congested from all the bodies, the heat, and occasionally the fog machine. No matter where you look, there are people, in a swarm all around you, bouncing in waves with the beat, all vibrating, hearts beating to the same feeling as you. It's a collective experience, probably the most uniting experience we can get in this life. Now imagine it here, at Dance Valley in the Netherlands, at the first installment of the festival that continues to today. On the 23rd of July in 1995, at this first show, eight-thousand people showed up to the massive concert that would one day be nicknamed the "Woodstock of Dance." Amongst these eight-thousand was german photographer Andreas Gursky, in one of the most actively global periods in his work.
Born in East Germany in 1955, Gursky's father was a commercial photographer and they spent much of his childhood moving from place to place. After attending art school, he began working under Bernd and Hilla Becher who inspired much of his style throughout his career. The Bechers, unlike Gursky, worked primarily in black and white, often photographic interesting pieces of architecture and design. You see their influence in Gursky's wide, landscape perspective, defined lines, and often subject matter. One of the first photographers to fully embrace digital technology to alter or enhance his photos, the composition and color in his photos is constantly captivating. Gursky's work gives a panorama-like view of contemporary life, ranging from photography of beaches, to office buildings, to mountains, to hotels, to rallies and even dance festivals. Through his travel, Gursky's work is truly Global and has discovered a level of compositional beauty that is worldwide. Recently one of his nature landscapes, Rhine II, sold for $4.3 million at Christie's, making it the most expensive photo ever sold.
Although Rhine II is undeniably beautiful, in looking through his work, it was Dance Valley that struck me differently. Unlike most of his work, composed in high saturation with crisp, contrasting colors, Dance Valley is relatively monochromatic in a way that appears almost sepia toned. In Gursky's other photographs of crowds, it showcases the individuality in the masses through color and sharp lines, but Dance Valley does the opposite. The oval mass of the crowd, encircled by the vignette of darkness, they look like a single organism, glowing in the gold-tinted light. The haze of smoke gives this photo an ethereal quality, united, turned towards one stage. Unlike so many concert photos, we see no performer. Instead, the subject is the fans, the dancers, the listeners of the music, the ones that determine success or failure in the first place. At concerts, there's a tendency to focus on the performer as the make or break aspect of the show, but in reality it's the audience. There's a saying in theater that the ensemble can either infuse the show with life or it can suck all the life from it, and in this case the crowd is the same way. Individually, each person is one in eight-thousand, but together they have the power to come together and ramp up the energy and create an unforgettable experience like this festival. Dance Valley might not be the clean-cut, vibrant photo we're accustomed to from Gursky, but the feeling of unity that this photo invokes creates a universal and incredibly powerful experience for the onlooker. This is Gursky's greatest talent. He doesn't just create a pretty picture, he encapsulates a moment in time.