Souls Aflame: The Burning of the Houses of Parliament
7:00 AM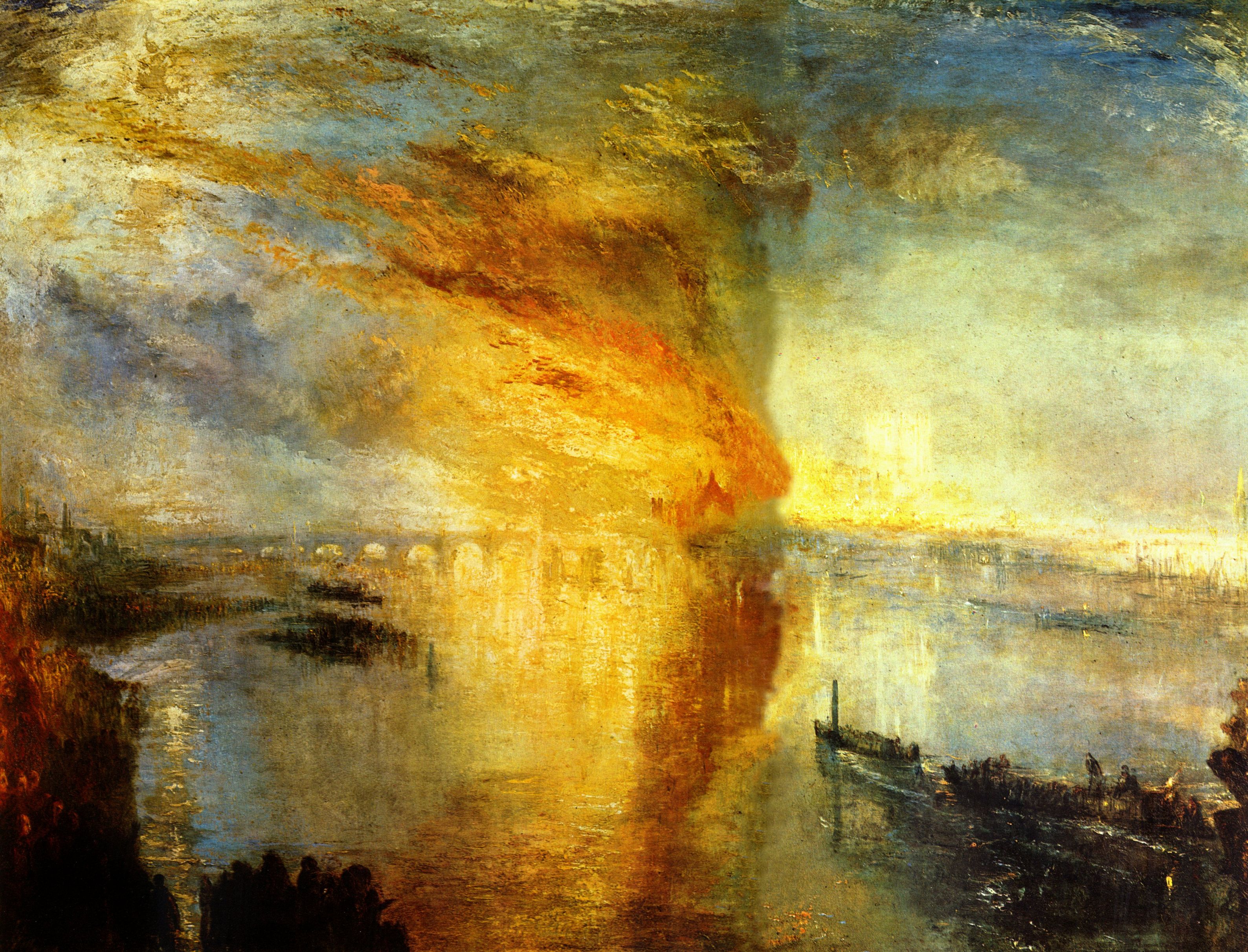 The Burning of the Houses of Parliament, J.M.W. Turner, 1935
Souls Aflame : Fire in Art

Curated By LIBBY ROHR
The Burning of the Houses of Parliament has been my favorite painting since I first saw it earlier in the year. There's something about the violent streaks of fire and the shadows of the silhouettes against the inferno that keeps me from pulling away. The gold in this painting captivates me, as if the flame itself were a living expression of the precious metal. Even in the obvious tragedy of this scene, there's something wild and freeing in how Turner portrays it, taking over the canvas and ripping across the sky and the water, untouchable. The shadow of the long gone Houses of Parliament looks so small in comparison with the sheer power of the flame. It imposes a sense of how small society is in comparison with the natural world. This force that we often feel has so much influence over our lives could be burned away in an instant.
Turner, uncontested as the most exciting British painter, was famous for his intense landscapes such as this one. His works were created in as violent a style as they come across, with thick swashes of paint and scraping edges. Forged literally in his blood, sweat, and tears, there is no painting that could convey the passion of an inferno better than a Turner, and therefore no better way to end this collection. Split in half by the horizon, I love the way the fire reflects in the water. Obsessed with natural disasters, this work is incredibly characteristic of Turner's powerful style. The fire consumes the whole painting, even leaving the darkness of smoke to hover around the edges of this work. One of Turner's greatest gifts is to turn this chaos into stunning beauty. Like the El Greco work I began with, the flame glows and shimmers throughout the work, unconfined and free. It touches the soul the way art is made to.
I don't look at this work and feel helpless, I feel powerful. Yes, the figures and buildings are small and silhouetted, and I'm sure I'm supposed to relate to them, but I don't. Looking at the violent brush strokes, I feel pulled to be part of the fire. I feel a rush of rebellion inside myself and the part of me that's felt the desire to fight back against the status quo since I was in grade school. When I stare at this painting, I take it as a call to change the world because through that fire - be it literal or a metaphor for passion - can tear down in an instant. In an instant, nothing is the same.