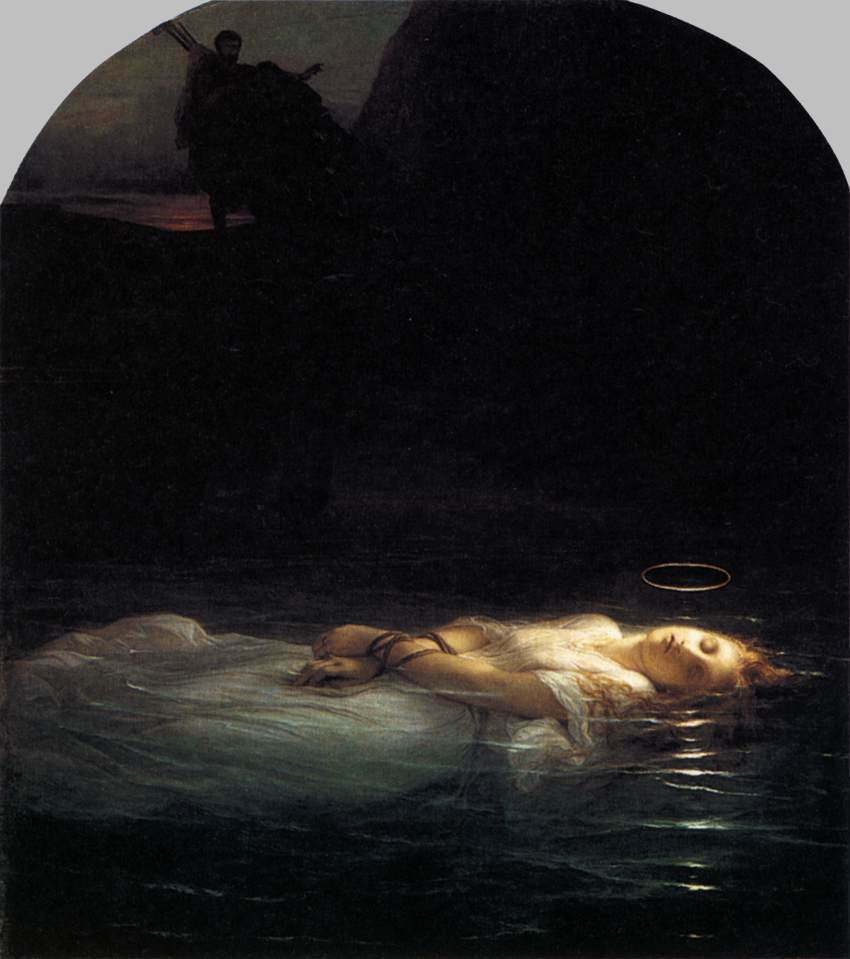 Delaroche, The Young Martyr, 1855
By LIBBY ROHR
Day four in Paris, my new favorite city in the entire world and we had only two days left in this glorious place. That day was Louvre Day, and I wandered the famed halls with my mother, overwhelmed by the sheer quantity of art from floor to ceiling all over this enormous place. We wandered into the crowd surrounding the Mona Lisa and slipped and slid through the masses until we could get to the front. It was beautiful, but also ugly, the way everyone flocked around it, mindlessly snapping pictures, with museum staff at the front trying to hurry people along and keep the crowd rotating. We escaped the throngs of people, turned a corner or two and found our way to a room with red walls. The hall beyond had the most glorious selection of floor to ceiling masterpieces, many of which I've now studied this year. Before I could be drawn in, my eyes caught a painting in my periphery and, as I turned to glance at it, she grabbed me. Sometimes called the "Christian Ophelia," for her resemblance to the figure in Hamlet, this tragic beauty took a piece of me right then and there.
I have never seen anything like her. She's even captivating on screen, but watching her here is nothing like being in her presence, discovering her insurmountable beauty without looking for it. Disturbing in content and composition, I would still argue that its the most hauntingly gorgeous work of art I've ever seen. Everything in the painting is dark, except for her, glowing ethereally from the water. She basks in the divine glow in the sunset of her life. The detail in the background is stunning as well. From the couple in terror, to the drifting boat, and the dying sky, there is so much to discuss about the rest of this painting, but I can't seem to take my focus off of her for more than a second. Her glowing pale skin and the perfection in her floating hair and clothes show her off as an angel, a holy being in the name of the Lord. Even in death she is effortlessly graceful in the soft waves of the water. Even though she is terribly sad, even though she is a martyr, even though this act has gone off like an explosion in the lives of those close to her, I can't help but to love her and find her beautiful.
Merry Christmas to my best friend and confident. When I helped you decorate your closet in the new house, the first thing I noticed was her on your wall. I know your last trip to Paris was less than ideal, but I hope the next time you can bask in the fantasy of my favorite city as I see it, and I hope you get to see her for real. I hope you see her beauty and remember that it's attainable to all of us in any situation, and know that the encapsulating love can exist for all of us, no matter who we are. That our every life has meaning and purpose, and that, even though I despise the idea of martyrs more than anything else, if I can still love her, than anyone can love you. Thank you for all of our late night walks and drives and trips to Heritage and advice sessions. I love you.
Editor's Note: Students were asked to give a painting to someone or something they cared for. These are their moving responses.